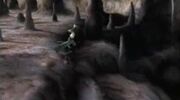 A natural tunnel running beneath the ever-raging sea. The crown jewels' sanctuary leads to the Dragon Palace.
The Dragonscrypt is a location in Valkyrie Profile 2: Silmeria. This long cavern, strewn with dragon skeletons, is situated in Northeastern Midgard and forms a passage under the sea between the mainland and the Palace of the Venerated Dragon, located on an island just off the coast. It is a short transition area to the much more complex Palace.
The relic bow is located at the bottom of a deep drop on the third screen.
Treasure
Enemies
Green Coral (Plant)
Gun Fish (Scaled)
Miscellaneous
Traversing the Dragonscrypt is the only means of accessing the Palace of the Venerated Dragon.
Although the Palace of the Venerated Dragon is also featured in Valkyrie Profile, the Dragonscrypt is not.
Ad blocker interference detected!
Wikia is a free-to-use site that makes money from advertising. We have a modified experience for viewers using ad blockers

Wikia is not accessible if you've made further modifications. Remove the custom ad blocker rule(s) and the page will load as expected.