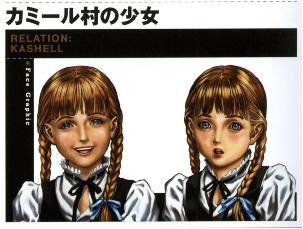 A young girl from Coriander who was to be sold into slavery, she was rescued by Badrach in order to spite the slavers who had sought to cheat him.
However Badrach found the girl to be a nuisance, and told her the church in Camille village was his house, and so she took up residence there as Badrach left her behind.
Some time later, she was playing near the cathedral in the village and inadvertently broke a seal, freeing a demon. The demon petrified the girl, then went on to petrify any villagers he could catch, destroying the statues after turning them.
Kashell and Celia came upon the carnage and discovered the petrified girl in the cathedral. But as they were discussing curing her with a potion, the demon appeared and slew Kashell. However, Kashell's desire to protect the potion caused Valkyrie to preserve it for him before taking him as an Einherjar. Celia later restored the girl using the potion before moving on from the village.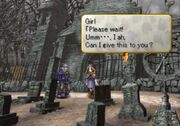 After Badrach's recruitment as an Einherjar, the player has an option to return to Camille Village and talk to the girl, who by now is on her early teens, to get a gift from her. After getting the Handwoven Bandana, Badrach will be astonished that she even remembers him.
During the introduction scene before the start of the game (the scene at the start of the game before you press the "New Game" or "Continue", the scene appears if you leave it be for a long time), when Lucian took Platina away from Coriander, Lucian mentions that his sister was taken away. While in Badrach's flashback story, he mentions that the girl he left in Camille Village was always asking about her brother. This lead to some speculation if this girl was also Lucian's sister.
Ad blocker interference detected!
Wikia is a free-to-use site that makes money from advertising. We have a modified experience for viewers using ad blockers

Wikia is not accessible if you've made further modifications. Remove the custom ad blocker rule(s) and the page will load as expected.