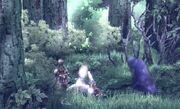 This beautiful, dense forest was once a battlefield. Lured by the fog, several monsters lurk inside.
The Ancient Forest is an optional dungeon in Valkyrie Profile 2: Silmeria, situated in Northwestern Midgard in the vicinity of Villnore. It is a sidequest location in Chapter 3 and 4.
The relic bow is located in a patch of white flowers on the left of the screen below the save point.
Treasure
Dwarf Tincture
Screp
Flare Gem (freezing gas trap)
Crystal Wand (confusion gas trap)
7,200 OTH
Iron Helm
Enemies
Chapter 3
Thunder Hawk (Beast)
Kobold Knight (Beast)
Owlbear (Giant, Beast)
Sack Mimic (Magic)
Goat Man (Beast, Demon)
Troll (Giant)
Toxic Flower (Insect, Plant)
Cybersaur (Scaled) x4 - Mini-Boss
Griffon (Giant, Beast) - BOSS
Chapter 4
Kobold King (Beast) and Kobold Warrior (Beast) x5 - BOSS
Miscellaneous
This dungeon can be unlocked in Chapter 3 and 4 by talking to a man on the first screen of Coriander: he is talking to a woman next to the first house in the village. Return to him for a reward upon clearing the dungeon. You must clear the dungeon in Chapter 3 to be able to unlock it in Chapter 4.
Defeating the Griffon will yield a Jade Sealpouch, which allows you to carry two Sealstones instead of one.
Ad blocker interference detected!
Wikia is a free-to-use site that makes money from advertising. We have a modified experience for viewers using ad blockers

Wikia is not accessible if you've made further modifications. Remove the custom ad blocker rule(s) and the page will load as expected.